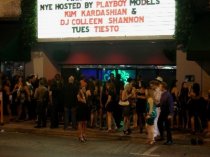 Find the answers to your Miami nightlife questions
Miami is known for having some of the best nightlife in the world. It has huge clubs holding thousands of people, famous DJs flying in from around the world to play at them and the city hosting the yearly Miami Music Conference in March, known as the opening party for the season of clubbing. People arrive expecting to party with sexy models and celebrities and Miami does not disappoint. Here we answer some of the top questions about going clubbing in Miami
I'm looking for a more stylish, upscale club. Where can I go?
The hottest club in Miami right now is Liv, located in the Fountainebleau Hotel. Liv is not in South Beach. In fact the famous hotel and club are located at 44th and Collins Ave, a ten minute cab ride away from South Beach. Liv holds roughly two thousand people and features laser light show, dancers and VIP table service. Also at the hotel is the newer club Arkadia, a smaller club downstairs from Liv.
Back in South Beach, Pearl nightclub in Nikki Beach at 1st and Ocean is both a restaurant and club and there is always a glamorous crowd to be found partying there, especially on a Sunday night. Mynt on 18th and Collins and The Wall at the W Hotel are both small lounges with no dance floor, but are considered some of the most exclusive clubs in South Beach.
What's it typically cost to go out to an upscale club?
Cover charge to get in to the clubs is between $20-$40 on an average night. If they have a superstar DJ playing this can rapidly increase, with tickets available for purchase in advance and on the night prices in excess of $100.
All clubs in Miami offer bottle service. This is when you have your own private table in a VIP section. It waives your cover charge, and will get everyone in your party into the club. Bottle service includes your chosen bottles of alcohol, juice mixers and ice, and a place for only you and your friends to hang out with your very own hostess looking after you. The average bottle price starts at $350 - $400 and goes all the way up to over $10, 000. The club quotes you a price that does not include tax (7.5%) and gratuity (anywhere between 18-20%), so try and ask for the total price in advance.
Bottle service is fun but an expensive way to party, and if you are in a bigger group the clubs will ask you to purchase more alcohol. Typically 1-4 people are asked to buy 2 bottles, any more people than that and you will have to purchase more.