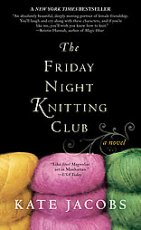 Review by Queenie D
Friday Night Knitting Club BOOK SYNOPSIS
"I'm open to second chances, but I may have had more than my fair share already." ~Georgia Walker
Georgia Walker became a successful business woman by mistake. When she found herself at 24 pregnant with no husband she thought her life might be over. The thought of returning home to her stern mother and quiet father was enough to drive her crazy. As she sits on a park bench in New York City, crying and knitting a baby blanket for the little life already growing inside her, she meets Mrs. Lowenstein and her whole life changes.
The story of Friday Night Knitting Club really begins 13 years later. Georgia has opened up a shop below her apartment, Walker and Daughter, a knitting boutique. Dakota, her daughter, is spunky, smart, beautiful, and half-black. Georgia's heart was stolen by James all those years ago and because his mother told him "never to bring a white woman home" he left Georgia and his baby without a word.
Anita, Mrs. Lowenstein, is Georgia's financier, mentor, friend, and stand-in mother. Anita has lost her husband Stan to a sudden heart attack and, with no actual need for money, she works at Walker and Daughter because she thinks of Georgia and Dakota as family.
Enter Cat, Georgia's estranged best friend from high school who has become a total socialite in an unhappy marriage. She "left Georgia at the alter" of friendship so to speak and is back trying to reconcile their past.
Finally, James. Dakota's father and love of Georgia's life returns one day to "fall in love with his family." Georgia's reaction is cautious at first but can she really help it if she still loves the father of her child?
There is a large cast of secondary characters who have their own endearing stories and what results is a group of women who meet every Friday night at Walker and Daughter to knit and forge everlasting friendships. Hold close to your box of tissues because in the end this story is definitely a tearjerker.
A true book club book!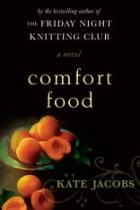 The Friday Night Knitting Club is a book by a woman, about women, and for women to read. The tremendous female relationships in this story will tug on anyone's heart strings. At first it seems like there will be too many characters to manage but as you get to know each one, their unique personalities and life hardships stand out individually of the next.
Georgia is the kind of character every good author wishes to write. She's funny, smart, successful, loving, a good mother, a fantastic friend, a cautious lover - your basic superwoman! But you also know that she wouldn't have become all these things if her life had been different. The heartaches she endured - best friend turning her back on her, lover leaving her young and pregnant, mother being cold and judgemental - helped her make the choices she did which end up leading to a great life with wonderful people in it.
Friday Night Knitting Club is written with lots of detail but it's all necessary. Because there are so many characters and side stories the detail is important to bring them from being two-dimensional to characters whose fate we really care about. And I would say that is the true winning point of this book - the characters feel like friends. When they are happy, you are happy. When they are trying to make major life decisions, you are right there offering them advice. And when their world is ripped apart by an untimely death, you are shedding tears as hard and fast as they do.
USA Today says "Like Steel Magnolias set in Manhattan" which couldn't be closer to the truth!
Friday Night Knitting Club DISCUSSION QUESTIONS
Is Georgia's success as a business owner in New York believable?
Does the interracial relationship play a significant role in the story?
How did the lives of each character change for the better because of the Knitting Club?
Also by Kate Jacobs
Visit OR BCQ's on-site for a list of full titles reviewed by the Queenies!
More Queenie D Book Reviews
, , , , , , , , , , , , , , .