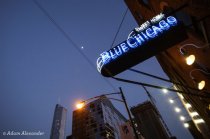 Mainstream pop, indie rock, hip hop, punk, blues or jazz – no matter your musical taste, you'll find it live in Chicago any night of the week. With more than 225 incredible venues ranging from intimate neighborhood clubs to historic music halls, Chicago is a prime tour stop and home to incredible local talents. Whether you are looking to catch emerging artists, are following a favorite band or want to try some gospel music with your brunch, the diverse scene is a music lover's paradise.
Here are 25 top spots to check out, from cozy small to behemoth.
UP CLOSE AND PERSONAL
The Hideout: To say it's a packed house here is no exaggeration. This beloved shack of a venue is essentially a frame house with a bar in the front and stage in the back "living room." Seek out the obscure industrial side street it's hidden on and you'll join a welcoming crowd there for the eclectic music sets or weekly bingo, comedy and dance nights.
Green Mill Jazz Club: Carrying on the traditions set forth by the legends that used to take the stage, this former speakeasy in Uptown dates back to 1907 and is the longest continuously-running jazz club in the country. Slip into one of the glamorous curved booths at this cultural gem for a stellar lineup of live jazz every night, from sultry singers to big band to bebop.
Blue Chicago
The bustling River North entertainment district adjacent to the downtown Loop boasts its own blues club, a friendly music establishment circa 1991. The lively corner stage along the long, narrow bar plays live sets every night of the week.
Jazz Showcase
The oldest historic jazz club in Chicago has been hosting top local and visiting musicians since its inception in 1947. Loyal fans have followed the club, even through its different venue relocations, making its polished South Loop space a destination for those who appreciate a sophisticated evening out.
Andy's Jazz Club
With a prime location just 2 blocks from the Magnificent Mile and the downtown Loop, this jazz mainstay can draw a good crowd. Make a table reservation for dinner or come early to secure seats, though the intimate space has good views from all around the stage.
Chicago Cultural Center: A stunning showcase for the arts, this massive landmark building in the heart of downtown houses exhibits year round in its galleries and its halls come alive with the sounds of music each week. Incredible performances – often classical, jazz and blues – are free and open to the public in the casual first floor Randolph Café, on the stage of Claudia Cassidy Theater, and beneath the world's largest Tiffany dome in Preston Bradley Hall.
SMALL TO MID-SIZE
Schubas: What was formerly a public house for Schlitz Brewery is now a charming historic landmark in the Lakeview neighborhood. The intimate music hall inside is known for its relaxed atmosphere, great acoustics and quality lineups of indie rock, honky-tonk, folk and country.
Buddy Guy's Legends: Owned by the iconic guitarist himself, this nightclub keeps the blues tradition alive on Chicago's South Side. Local, national and international acts play nightly, with Buddy playing sold out shows each January.
Reggies Chicago: Here a kickin' rock club combines with a laid-back live stage alongside a bar and grill, plus a roof deck and record store – all in one South Loop space. It's plastered in memorabilia and performances are a mixed bag of genres as diverse as the crowds: rock, metal, punk, jazz, blues, folk, hip hop.
Empty Bottle: This unassuming storefront on busy Western Avenue is one of the city's premier indie rock clubs. Cheap shows – many are free – make for a fun gamble on some of the lesser known acts, while cheap drinks and solid programming bring a faithful following of regulars.
Old Town School of Folk Music: From Brazilian tropicalia to Balkan dance to kid-friendly sing-alongs, you can discover it all at critically-acclaimed concerts presented in the superb acoustic spaces.
Kingston Mines
For nearly 50 years, the two stages of this late night blues hangout has been keeping the music alive on the city's North Side. Here at the largest and oldest continuously-operating blues club in Chicago, get your fill of Southern-style fare from Doc's Rib Joint while two alternating bands play continuously from their "front porch."
City Winery
This 300-seat concert hall and working winery is a multi-sensory cultural experience: feast on a full menu of Mediterranean cuisine, sip through a 400 bottle wine list sourced from around the world, and relax to live performances seven nights a week.
ROOM TO ROCK OUT
Lincoln Hall: The owners of Schubas Tavern opened up this rock and pop venue in a Lincoln Park building that had seen many transformations, most notably as a movie theater. The wrap-around mezzanine balcony is a standout spot for catching the next buzzed about band.
Double Door: Just-under-the-radar alternative bands rock out here, but the place has some major cachet: groups like The Rolling Stones and Smashing Pumpkins have grabbed the mic here too. Located at the six-corner intersection of North, Damen and Milwaukee, the 21 and over, standing room only venue is in the heart of the nightlife action in Wicker Park.
Park West: National headliners like Aimee Mann, Raphael Saadiq and Pete Yorn are on the roster at this former movie house, which boasts an intimate lounge setting with five tiers of seating.
The Metro: With a reputation for bringing in acts on the verge of breaking it big, this Chicago institution is a platform for many genres. From mainstream rock and metal, to indie pop and electronica, dig into the new music scene at the 30-year-old independent venue.
House of Blues: An entertainment emporium in downtown River North, the Chicago version of this chain has the glorious colors and rich adornments of the Mississippi Delta as a backdrop to the national touring acts (not only blues) and Gospel brunch served up in the various levels.
The Vic Theatre: This five-story vaudeville house was built as the Victoria Theatre in 1912. Catch favorite artists in rock, pop and indie music here, while on off nights see the space double as a movie theater known as the Brew & View.
Riviera Theatre: In Chicago's historic Uptown theater district, the past and the present collide. The timeworn venue hosts big names of today, with its glitzy red marquee sporting such rock and pop headliners as The Fray, Wilco, Adele, Crystal Castles and Andrew W.K.
STADIUM SEATING
Chicago Theatre: A gloriously-restored auditorium with seating for 3, 600, this downtown icon lines up superstar entertainers for shows that appeal to all ages such as David Byrne, The Monkees, Fleet Foxes and Nicki Minaj.