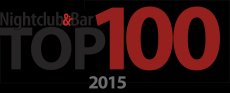 TWEET IT: 2015 Nightclub & Bar Top 100 List released today via @nightclubbar. See who made the list here:
Nightclub & Bar Media Group announced the annual Nightclub & Bar Top 100 List, sponsored by MillerCoors and 2TouchPOS. The list, which serves as the nation's only annual revenue-based listing of high-grossing nightlife venues, confirms that 2014 was a record-breaking year for nightclubs across the country and that Las Vegas continues to be a force to be reckoned with, securing seven of the top ten spots.
For the third consecutive year, XS Nightclub at Encore Las Vegas has proven itself to be the hottest nightclub destination in the country, holding onto the No. 1 spot on the annual Nightclub & Bar Top 100 List. Breaking into the Top 100 List for the first time is newcomer to Las Vegas Hakkasan Nightclub at MGM Grand, whose record-breaking numbers show the sheer magnitude of this year's list. Bringing in excess of $100 million each in revenue in 2014, which has never been done before, both XS and Hakkasan have proven there is no limit to gross revenue that can be generated. The Top 100 total combined revenue was off the charts with $1.36 billion in 2014 total revenue. Las Vegas venues accounted for a total of 15 spots, and other major markets represented include Los Angeles, San Diego and Dallas.
"With this year's top clubs coming in significantly higher than year's past, our Top 100 list once again proves the strength and energy of the nightlife industry, " said Jon Taffer, president of Nightclub & Bar and host and executive producer of Spike TV's Bar Rescue. "Each year it's exciting to see top nightlife destinations battle it out by bringing in the world's hottest DJs and creating amazing, over-the-top experiences for their guests in hopes of topping the list.
The venues battled it out to keep their spots in the top ten, with Hakkasan securing itself in the #2 spot after receiving honorable mention last year, LIV Miami beating out Surrender, and PURE dropping off, and XS taking the top spot once again. The Top 10 were awarded to: XS Nightclub Las Vegas (#1), Hakkasan Las Vegas (#2), Marquee Las Vegas (#3), TAO Nightclub Las Vegas (#4), LIV Miami (#5), Surrender Nightclub Las Vegas (#6), LAVO New York (#7), Story Miami (#8), Hyde Las Vegas (#9), and LAVO Las Vegas (#10). View the full Top 100 list here.
Nightclub & Bar will honor the 2015 Top 100 winners during the 30th Anniversary Nightclub & Bar Show taking place in Las Vegas March 30-April 1, 2015! Winners will be recognized on the Nightclub & Bar Show red carpet and honored with a special party at XS Nightclub on Tuesday, March 31 during the Nightclub & Bar Show Top 100 Platinum Party featuring a performance by Grammy Award nominated DJ Avicii.
The 2015 Top 100 list was crafted following a comprehensive process in which nightlife venues submitted survey information to Nightclub & Bar during fall 2014, followed by a lengthy analysis throughout the first month of 2015. Nightclub & Bar engaged a third-party team of statistical experts who provided a detailed formulaic approach to review the data submitted by each venue and develop the Top 100.
2015 Top 100 Methodology
The Nightclub & Bar Top 100 is the only ranking of the leading bars, clubs and lounges in the United States based on total annual revenue. Developed in 2009 by Nightclub & Bar Media Group, the Top 100 List has become a coveted achievement for premier nightlife destinations.
Nightclub & Bar engaged T.G. Mayer & Co., P.C. who provided a detailed formulaic approach to review and verify the data submitted to develop the Top 100 List. Many of these establishments are privately held companies so their sales are not public information. If an establishment does not provide complete information or chooses not to provide the information required by the Top 100, they are omitted from this list. Honorable Mentions are given to select venues that have not been open for the full 12 months required for Top 100 list, yet generated revenues year-to-date that deserve recognition.
About Nightclub & Bar Media Group
Nightclub & Bar Media Group, a division of Boston, MA based Questex LLC, is the go-to resource for the on-premise professional. Mirroring the fast-paced, trend-setting nature of the beverage industry, Nightclub & Bar has been providing the specific tools bar professionals, owners and managers need to grow their businesses, compete, and succeed in this hyper-competitive and dynamic industry for 30 years. Nightclub & Bar Media Group produces the Nightclub & Bar Show ( VIBE Conference, Jon Taffer's Rescue Tour, Nightclub & Bar Marketplace (/) Nightclub & Bar Top 100, Nightclub & Bar Awards, and produces daily content on