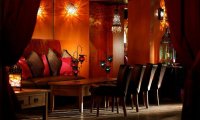 TEN BEST BARS & CLUBS TO VISIT IN DUBLIN THIS SUMMER
The sun is out for longer, the days are getting warmer, everybody is wearing less clothes. Oh yes, the summer is here! And with those long hot summer days come the long hot summer nights, the few months a year when we can head out for a night on the town without having to bring an umbrella, a scarf, and three layers of jackets.
So where are you gonna head out to? Well, we here at entertainment.ie have got you covered, with a full buffet selection of bars and clubs for you to frequent over the coming weeks and months. There's something here to suit every taste and mood, so get your glad rags on and head out!
BEST SPORTS BAR - THE WOOLSHED
Parnell Centre, Parnell Street, Dublin 1.
Right next door to Cineworld, The Woolshed Baa & Grill is the best spot for sporting events, played out on one of its two massive projection screens, or any number of plasma TVs spotted about the place. Enjoy the match - whatever the sport may be, The Woolshed pretty much shows them all - with some pitchers of beer and one of the best platters in town.
BEST BAR TO SPEND THE WHOLE DAY IN - THE CHURCH
Jervis Street, Dublin 1.
You could start off with a few cold drinks in one of the nicest and biggest outdoor areas in the city centre, head back inside to partake in the cocktail menu, or if you're feeling hungry they've got a proper restaurant upstairs. Then end the night in the basement club with a DJ playing all the latest chart hits. Seriously, the entire day can be spent in here.
BEST FIRST-DATE BAR - VINTAGE COCKTAIL CLUB
15 Crown Alley, Temple Bar, Dublin 2.
The VCC can be kinda difficult to find - we walked past three times before noticing the front door - and that's kinda the point. Most nights they won't let you in without a reservation, but once inside you'll be greeted to a Great Gatsby-esque décor and more kinds of cocktails than you'll know what to do with.
BEST WILD NIGHT OUT CLUB - THE WRIGHT VENUE
South Quarter, Airside Retail Park, Sword, County Dublin.
On the boarders of the city is The Wright Venue, a massive multi-story mega-club that has been hosted by the likes of Afrojack, Benny Benassi, Fedde Le Grand and loads more. Different rooms greet you with different music genres, this is the closest thing we have to an Ibiza night out that's only a taxi ride away.
BEST NEW HOT-SPOT CLUB - SAHARA
10 Westmoreland Street, Dublin 2.
If you haven't heard of Sahara yet, don't worry, it's a relatively new entry to the Dublin nightlife, but trust us, it's a good'un. The subterranean club pounds out the awesome soundtrack to your night as you get indulge in the awesome cocktails; one of which is made with Chocolate Mice, and some their special blends get served in tea-pots!
BEST HIPSTER BAR - THE WORKMAN'S CLUB
10 Wellington Quay, Dublin 2.
Hipster can sometimes come with its negative connotations, but not in this case, as The Workman's Club represents everything good about "hipster" lifestyle; the musical tastes that range from cutting edge to the best of retro, the awesomely designed smoking area with all those doors that lead to nowhere, plus there's always a house special cocktail to enjoy.
BEST LIVE MUSIC BAR - THE VILLAGE
26 Wexford Street, Dublin 2.
If DJs aren't your bag, then you may want to hit up The Village for a more instrument-driven evening. If rock, indie, folk and acoustic are what you've got filling up your iPod, then this summer's live line-up should be right up your alley. Oh, and this summer, they're also having Ping Pong Tournaments. Awesome.
BEST CLUB FOR SINGLE FOLK - DICEYS
21-25 Harcourt Street, Dublin 2.
The crowd is usually a bit more college-years, so if you're in your early-20s (or don't mind feeling old while being surrounded by those in their early-20s), then head to Diceys with its MASSIVE smoking area garden, constant themed nights - Thank F**k Its Monday, Brazilian Tuesday, etc., - and fantastic drinks promotions.
BEST CELEBRITY SPOTTING CLUB - LILLIES BORDELLO
Adam Court, Grafton Street, Dublin 2.
For years now, Lillies has been the go-to spot in Dublin's city centre for famous folk to go unwind with a stiff drink or two. It's a rare night you'd enter the Bordello and not rub shoulders with a celebrity or two, but even if you don't see them in the VIP area, there's still the dance-floor, foosball table, multiple smoking terraces and private library bar for you to explore.
BEST CHILLED OUT BAR - THE BAR WITH NO NAME
3 Fade Street, Dublin 2.
Another bar that you may not notice at first glance - the front door is marked by a sign of snail, leading many to refer to it as The Snail Bar - inside its all super comfy couches, awesomely constructed tables, lovely heated smoking area and just a generally relaxed atmosphere. If you're looking for somewhere a bit more quiet to get your chat on, then this is for you.