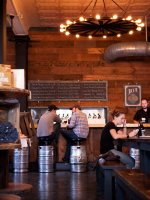 Where to party after dark in Dallas.
Photography by Sean McGinity
Best Beer Bar
Craft & Growler
Dubbed a beer filling station, this Exposition Park haunt is equal parts bar and retail space. Owned by husband and wife attorneys Kevin Afghani and Catherine Kinslow, C&G offers 30 beers on draft, including several locally handcrafted brews. Even better: here you can take your beer home with you by purchasing one of C&G's reusable bottles (a growler). That means, if you discover a new favorite ale from a small batch brewery that doesn't sell its beer by the bottle, no worries. Grab a growler, fill it up, and take your new best friend home with you.
Best Cocktails
Smyth
This dim, wood-paneled bar is reservations-only. Finding the entrance is tricky. They get cranky about last-minute party crashers. Still, cocktails are first-rate. A personal bartender stops by your table and asks what you like. No menus. Classics, twists on classics, and one-offs, such as a smoky Mezcal smash, are mixed according to the taste and spirit preference. It feels special and a little fancy, just like you.
Readers' Pick: Black Swan Saloon
Best Place to Eat After Midnight
DaLat
Owner Khanh Nguyen's Vietnamese comfort food is creative and original—two things you don't often see with Asian cuisine in Dallas. He does everything from a traditional beef pho (comes in veggie, too) to a banh mi sandwich with Spam. It's the kind of late-night food you'll crave at all hours of the day, not just after Cinderella's bedtime. Shoot, we'd eat DaLat's pork meatball shooters for breakfast if we could.
Readers' Pick: Cafe Brazil
Best Karaoke
The Round-Up Saloon
We tip our stetsons to The Round-Up's Cowboy Karaoke for being everything a great karaoke bar should be. Performed nightly in its front bar known as The Parlor, The Round-Up's songbook is deep, its elevated stage is definitely spotlight worthy, and its regular patrons are a friendly mix of amateur warblers and American Idol worthy songbirds. Better yet: these guys and gals take their song choices seriously, singing everything from Garth Brooks (naturally) to Elvis Costello, with a heavy dose of showtunes thrown in. Drunk frat boys, you can find your LMFAO elsewhere.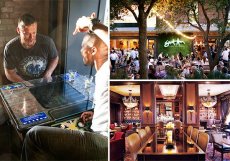 Readers' Pick: The Goat
Best Live Music Venue
Nasher Sculpture Center
We admit that it's unconventional to honor a venue as Dallas' best spot for live music when it ultimately only hosts four shows each year. But the Soundings series is just that good. Booking some of the world's best musicians and ambitious classical and contemporary music you won't hear anywhere else—all in an unparalleled, intimate setting—the programmers continually rethink how to use the Nasher's galleries to create inspiring and surprising nights of great music like nothing else in Dallas.
Readers' Pick: Granada Theater
Best Place to Dance
It'll Do Club
Credit owner Brooke Humphries of Barcadia and Beauty Bar fame for taking this 1940s-era dance club teetering on the far eastern edge of Deep Ellum and transforming it into the best place to dance in Dallas. And that's the focus: dancing. It's a no-frills space thumping with house music spun by local DJ Red Eye as well as a host of visiting DJs and musical acts. (Scissor Sisters frontman Jake Shears dropped by earlier this year.) It'll Do is also where you'll find the city's most eclectic crowd—gay, straight, drag queens, preppies—spinning, thrusting, and having a vodka-fueled good time void of drama and pretense. To quote Funkadelic, it's one nation under a groove.
Best Bar With a View
Soda Bar at NYLO Dallas
Ever since this bar opened in August, we've been flocking to its beautifully restored rooftop location. We love sitting around the infinity pool, where we can sip on a beer from Deep Ellum Brewing Co. and get the best view of the city. We also love that when it gets windy, or even if it's just less than ideal outside, we can go inside and gather around the bar with the doors flung wide open. No matter where we choose to imbibe at this rooftop bar, we're guaranteed the best seat in town. (For more on why we love this bar, turn to page 190.)
Readers' Pick: Bar Belmont
Best Hotel Bar
The Library Bar at the Warwick
We head to the library Bar for some of the best people-watching in town. There are young professionals, hotel guests, and the regulars all congregating in a warm, inviting space surrounded by books. We instantly feel more sophisticated when we've got a cucumber martini in our left hand, and with the right hand, we're flipping through Those Who Came Forward. If reading and drinking isn't your thing, stick around for the entertainment. Aubree-Anna's vocals are as fresh as that martini.
Readers' Pick: Dragonfly at ZaZa
clockwise from left: Kung Fu Saloon, Saint Ann Restaurant & Bar, The Library Bar at the Warwick
Kung Fu Saloon: Billy Surface; all others: courtesy vendors


Best Bar With Games
Kung Fu Saloon
Kung Fu saloon has all the makings of the perfect children's birthday party. It has old-school arcade classics like Cruisin' USA, tunes from the Top 100, and arcade fare. But here's the best part: it's a 21-and-up bar in Uptown. Which means all that plus booze. Here, hipsters mingle with the typical Uptown patrons, challenging them to a game of skee ball or life-size Jenga. The free arcade games are equipped with the perfect accessory: a cup holder so you won't spill your specialty cocktail or one of the 24 beers on tap while you're beating your friends at Mortal.