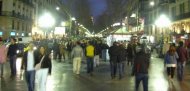 Matt Kepnes, founder of top travel blog NomadicMatt.com tells us his favourite cities for partying in Europe. We're big fans of his blog - we think you'd like it too. It's full of great posts on how to save money and more. You can also keep up to date with Matt on Twitter and facebook
.
Europe is one of the premier budget and backpacking destinations in the world. Every year, and especially when temperatures rise in the summer, thousands of people go backpacking in Europe and as they do they have one thing on their mind. No, not museums. Parties. Europe in the summer is one of the most festive regions of the world and the continent is bursting with parties, nightlife, and festivals from end to end.
After coming to Europe every summer since 2006, I've seen and done it all. I've been from end to end, exploring cities, visiting museums, eating delicious food, and drinking until late in the night. And I can tell you the best party destinations are the ones below...
1. Barcelona, Spain
Barcelona is a city for night owls. Nothing happens until 2 am – whether you are tourist or local. Locals here eat dinner at midnight, party until dawn, and sleep until noon. Tourists follow the same pattern. With €1 shot bars, world class clubs, flowing wine, and wild parties, Barcelona is always a top destination for travellers in Europe looking for a good time. It has never disappointed me.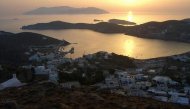 2. Ios, Greece
This island in Greece is one the main summer party destinations. I've been here twice and each time the island captures me and keeps me longer than planned. Everyone here is in high spirits, wants to have a good time, lies in the sun all day, parties in the evening, and makes new friends. I left Ios with some of the closest friends in my life.
And what is also great is that Ios is a very cheap place to travel to with hostels costing €10 per night and drinks costing €2.
3. Berlin, Germany
Berlin's nightclub scene is one of the best in the world. The DJs here are world famous and it's a city on the forefront of house music. The beer here is cheap, the bars and clubs abundant, and the atmosphere wild. During the week it's not 24/7, but come the weekend an unrivalled rush of people makes Berlin unforgettable. The city is so sprawling and huge that it attracts everyone who spends the summer in Europe. There is always something for everyone.
4. Amsterdam, The Netherlands
Amsterdam isn't a wild club city like Berlin or a crazy all night party like Ios. Here, things are much more relaxed – bars and pubs are common. The Dutch are more low key and would prefer a good pub or house party to a huge rave. But even still, there is still a lot of fun to be had thanks to the coffee shops, red light district, pub crawls, and bars that stay open untill late.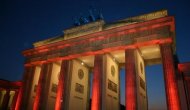 5. Copenhagen, Denmark
The Danes know how to party. All the proof you need is the presence "morning bars" in the country – bars that don't open until 3 am and stay open until around 10 am. They are the after-hours places to be with people doing Fisk shots (a menthol flavoured local drink), being merry, and enjoying daybreak. Denmark is an expensive country to drink in but for those who can last into the morning, you'll be greatly rewarded. And the Danes are more than willing to share a drink with a traveller.
6. Prague, Czech Republic
Twenty years ago, drinks in Prague were pennies and because of that thousands flocked to the city turning it into one of the biggest destinations in the world. Cheap flights allowed people to come in for a weekend of partying and head home. Those days of cheap booze are over but the atmosphere, pubs, bars, clubs, and cheap flights live on. Be warned, any trip to Prague will leave you with a massive hangover.
This is a city built for parties, especially those involving travellers. All the hostels offer pub-crawls, vodka tastings, and mixers. They specialize in getting people out and having fun. All the travellers I meet come here expecting to party, which only adds to the atmosphere. Everyone is psyched and looking for a good time. And a good time is not hard to find – there's a bar on every corner. Throw in very cheap drinks, locals who like to toast vodka with everyone, and you have the recipe for a wild time.
With its cheap alcohol, hostels designed for parties, and amazing ruin bar scene, Budapest is a great place to grab a drink. The ruin bar scene is one of my favourite bar scenes in Europe – drinking in the ruins of old abandoned building adorned with a garage sale décor. It's fun, it's arty, and it's incredible.
9. Lagos, Portugal
Located in Portugal, this city is the premier party destination in the country and one that attracts sun dwellers with its booze cruises, wild toga parties, amazing beaches, and cheap drinks. Lagos is like Ios – except on the opposite side of Europe. You can expect the same wild atmosphere, hangover, and tan.
So with the summer fast approaching and Europe on people's minds, consider adding these destinations into your route for fun, history, and learning the drinking songs of countless people from around the world you will meet.
To keep up to date with Matt check out his blog, follow him on Twitter or like him on facebook.