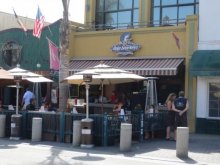 No matter what you are in the mood for, Main Street in Huntington Beach is the place to go. From live music and dancing to standup comedy and everything in between, Main Street in Huntington Beach has a variety of bars and restaurants all within walking distance of one another.
Baja Sharkeez
211 Main Street
Huntington Beach
Baja Sharkeez is a great place to go if you'€™re in the mood to let your hair down and enjoy great drinks, loud music and fun with friends. Famous for their themed parties, syringe Jell-O shots and Shark Attack buckets, Sharkeez has fantastic food and drink specials with a Las Vegas night club vibe.
Baja Sharkeez interior
Sharkeez attracts a younger crowd, and is one of the busiest spots on Main Street. After about 10 p.m. it gets really packed and tends to feel a bit claustrophobic as the night rolls on. Although it can get quite crowded, I say: the more the merrier!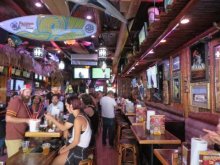 Insider tip: If you're going out with a part of 10 or more people, call their promotions department and reserve a table. They'll hook you up with even more drink specials, and you get a free appetizer platter!
Hurricane'€™s Bar and Grill
200 Main Street
Huntington Beach
www.hurricanesbargrill.com
Hurricane'€™s is one of the few places on Main Street that is extremely spacious, has a full dance floor and attracts crowds of all ages (21 and up, of course). With more than 20 years of excellence in food and fun, they'€™re clearly doing something right. A 30-foot long bar, electronic light show and a DJ seven nights a week makes this a popular spot, especially among locals."
Interior of Hurricane's, including the 30-foot bar
They also have live music from time to time and a great outdoor patio with a full view of Main Street, which is great for people watching. " Hurricane'€™s is a great place to come if you are into the club scene and want to dance the night away.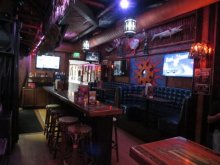 Dance floor at Hurricane's
Insider tip:" They offer a free rewards program where you use a rewards card to accumulate points towards a gift certificate you can use on your next visit. If you sign up on their mailing list, you receive an instant gift certificate.
The Longboard Restaurant and Pub
217 Main Street
Huntington Beach
www.longboardpub.com
If you are in the mood for something a little more mellow, The Longboard offers great food and drinks for a slightly older crowd (30s and older). This is a great place to come and hang out with friends, and actually be able to carry on a conversation without music drowning you out. The Longboard is located in the oldest remaining building in Huntington Beach, which was fully restored in 1990 when it became The Longboard Restaurant and Pub. They have great food specials, a full bar and two heated patios which are great for lounging and hanging out with friends. Check out their website for weekly events and specials.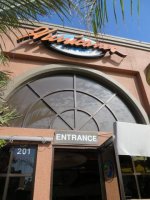 The Longboard interior
Heated patio at The Longboard
Gallagher'€™s Pub
300 Pacific Coast Highway
Huntington Beach
www.gallagherspub.com
Located just off Main Street at, Gallagher'€™s Pub is one of the best Irish Pubs in Huntington Beach. Each night of the week is booked with events like live bands, karaoke and comedy shows. The bands play regularly, and perform everything from rock-reggae to traditional Irish music. They have a full Irish food and drink menu, as well. After 9 p.m., Gallagher'€™s can get pretty packed, but they have an outdoor patio where you can cool off and take a breather.
Interior of Gallagher's
When the sun goes down in Orange County, Huntington Beach is filled with exciting things to do. Whether you want to catch a comedy show or go dancing, Main Street is the place to go. These places tend to get crowded around 10 p.m., so avoid the lines and cover charges and arrive a little early.