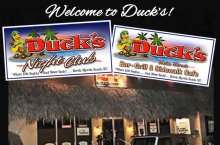 DUCK'S NIGHTCLUB &
Duck's Main Street
Bar, Grille & Sidewalk Café229 Main Street • North Myrtle Beach, South Carolina 29582
843-663-3858

Located in the heart of Main Street, in North Myrtle Beach, South Carolina,
DUCK'S NIGHTCLUB AND DUCK'S MAIN STREET
BAR, GRILLE, & SIDEWALK CAFÉ
has been a long-time North Myrtle Beach Favorite and Tradition on the Grand Strand.
With all new Live Entertainment EVERY WEEK, it's the place to be all year long!
Duck's offers weekly drink specials, THE HOTTEST BANDS, shag events like SOS and DJ THROWDOWN.
all going on at Duck's!
HERE'S SOME OF THE FANTASTIC BANDS THAT HAVE PLAYED AT
DUCK'S BEACH CLUB!
Come on down to DUCK'S Main Street, North Myrtle Beach, SC
DUCK'S HAS HAD THE HONOR OF SHOWCASING THE MOST POPULAR AND TALENTED BANDS IN THE BUSINESS!
MANY OF THESE BANDS CAN BE SEEN AT DUCK'S ON A REGULAR BASIS.
But here's a listing of some of the bands that have previously played at Duck's:
The Tim Clark Band, Smokin' Hot, Punch, Craig Woolard Band, Hip Pocket, Sea Cruz, Legends of Beach, Big Sam, The Holiday Band, Tru Sol, Mark Roberts & Breeze, Jim Quick & Coastline, The Swingin' Medallions, Fantasy Band, Legacy, Carolina Breakers, North Tower, OD Players, The Embers, The Tams, Tommy Black & Blooz, Spare Change, DieDra, and more...
DJ PAUL CRAVER & JASON JUSTICE SPINNING THE HOTTEST HITS BETWEEN SETS!!
DUCK'S IS THE HUB FOR ALL THINGS SOS!
Don't miss SOS Week, (Society of Stranders)!
Don't know what SOS is (Society of Stranders)? Come on down and take a look and learn the South Carolina official state dance - the Shag! Duck's has the best DJ's and Bands for SOS Spring Safari and SOS Fall Migration, SOS Mid-Winter Event, Duck's DJ Appreciation Party, Junior SOS Events,
and other shag events and reunions throughout the year.
IF YOU WOULD LIKE TO BE ON OUR EMAIL LIST, AND GET A WEEKLY POSTER OF BAND EVENTS,