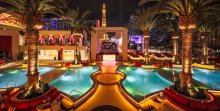 While this all may seem like common sense to all veteran club-goers, some of you may be surprised. Out-of-towners (and even some locals) ask us all the time about standard club etiquette and how to get into the best Las Vegas nightclubs, and so here are your answers!
We rounded up the top five tips on making the highlight of your stay. Plus, there's no shame in coming prepared to party. Because once you're in, you're in.
1. GROUP OF GUYS WITHOUT A TABLE? GOOD LUCK!
Guys: If you huddle in line like you're going over a football play, we guarantee you'll have a hard time getting past the doorman. Unless you're willing to drop a grand or two on bottle service, you might want to reconsider on how you're getting in. (Being friendly or aggressive with the doorman won't help you, either. All you're doing is holding up the line for everyone else!)
If you're here for a bachelor party or milestone party, there's still hope. This is where your awesome social skills come to play. Break into pairs and find some ladies in line. Your chances of getting into the club will skyrocket. Have small talk and be honest. Offer to pay for their admission or buy the first round of drinks.
2. BUY TICKETS IN ADVANCE.
Plan ahead of time and buy your tickets to avoid the long lines. (For guys, we still recommend breaking up in pairs; girls always get first priority!) If you already have your club ticket, there is a separate, shorter line for this. Doing this will save time. And saving time outside the club equals more mingling inside. Get 'em!
We also recommend arriving as early as possible. With all the big-name headliners and DJs taking the stage, you and virtually everyone else (locals included) want to be here. Be in line by 10 p.m.
Sidenote: Even if you have a VIP host or a table reserved, there is still a line for that. If you're really trying to avoid a long line, try going on an off-night (typically Sunday – Wednesday).
3. LOOK (OR ASK) AROUND.
When booking your reservation or checking into your Las Vegas hotel, ask if they offer complimentary nightclub passes. Bring up any and every contingency so you're not stuck at the door.
Also: you'll see club promotors peppered throughout the hotel property handing out their cards/flyers. If the promoter provided his/her name on the card, text ahead of time and ask specifics (girl-to-guy ratio, guest list/club pass line versus general admission, etc.) If you have a VIP host, same procedure applies.
4. TIP.
While we can't guarantee this will make your Vegas club entry faster, it's the gesture that counts – especially if the doorman or VIP host makes things smooth and easy-peasy for you. But don't try to pull any "Night at the Roxbury" moves, though. Save those "George Washingtons" for the slots!
5. dress dapper.