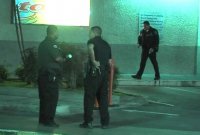 Two people were killed and five wounded in a shooting between two rival gangs in San Bernardino. Tony Shin reports for the NBC4 News at 5 p.m. on March 4, 2015. (Published Wednesday, March 4, 2015)
Two men are dead and five people injured after gang-related shootings at a nightclub and a gas station in San Bernardino early Wednesday.
One of the men killed was gunned down at Stingers Bar and Nightclub in the 190 block of West Club Center Drive just before 1:47 a.m, San Bernardino police said. Up to 30 shots were fired into a crowd of around 200 people in the parking lot.
Minutes later, another person was fatally shot at a nearby ARCO gas station. A car that had previously been seen at the club was located at the second crime scene, police said. Several vehicles were also hit during the shootings.
Police said it started earlier in the evening when a group of people had been denied entry into the club because security recognized them as gang rivals of patrons who were already inside.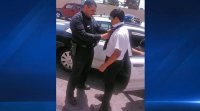 Two Killed in San Bernardino Shootings
Two men were killed and five injured in linked shootings in San Bernardino Wednesday. Annette Arreola reports for Today in LA on Wednesday, March 4, 2015 (Published Wednesday, March 4, 2015)
After they were turned away, they hung around the parking lot, and police were called to remove them from the property. The group left when police arrived, but returned to confront the other group as the club was closing.
Investigators said the club has been linked to criminal activity in the past.
2015 Southern California Images in the News
The two men who were killed have been identified as Petetrial Michael Scott and Jerry Jamale Jackson.