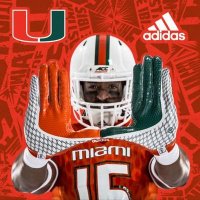 Went to sleep before midnight Friday.
SURPRISE!
I woke up to a sneak peek of the new University of Miami adidas uniforms that will be unveiled at 9:20 tonight. I like what I see, even the "miami" part.
How about U?
Have my invitation for tonight's unveiling firmly in hand.
"The Brand With Three Stripes, '' the media invitation says, "is the official athletics apparel provider of #TheU, beginning this fall.''
Adidas will be throwing quite a bash - up to 500 strong - at LIV nightclub in the Fontainebleau Miami Beach. The event runs from 7 to 10 p.m., signaling "the beginning of a new era in Hurricane Athletics and will be THE PLACE TO BE ON SOUTH BEACH, '' the media invitation states.
Before the formal event, an "Orange Carpet Arrival'' event will "welcome past Miami football legends and gain their perspective on UM's new apparel deal.''
The deal begins Sept. 1 and runs for 12 years, through June 30, 2027. UM is a private institution and does not have to reveal the details of the deal, which will include annual cash payouts in addition to the equipment and apparel, and other, yet-to-be revealed marketing-related benefits. It's one of the top deals in college football, worth more than $90 million, according to a knowledgeable source.
Michigan's 11-year, $122.3 million deal with Nike was announced Wednesday (note that there's a four-year extension option that would make it worth $169 million over 15 years)- by far the richest deal yet. Michigan has been an adidas school.
As for those Canes' uniforms, at least one white jersey, one green jersey and one orange jersey - as well as pants - will be unveiled.
I was told by a source that "blackout'' and "whiteout'' uniforms are the mix, though they won't be unveiled Saturday.
The latter two uniforms would each be for one specified game. They could be used again if the Canes deemed them worthy (translation: if they win in them).