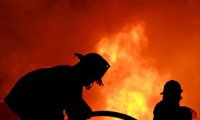 Firefighters in the Philippines. The Ozone fire was one of the worst nightclub blazes in the world in the past 20 years. Photograph: Dennis M Sabangan/EPA
A Philippine court has convicted nine people of graft over a 1996 nightclub fire that killed 162 people, mostly students celebrating the end of the school year.
The Sandiganbayan court convicted seven former city engineering officials of suburban Quezon City and two operators of the Ozone disco and handed out sentences of up to 10 years.
About 400 people were packed into the disco when the fire broke out, but many were unable to escape because the emergency exit was blocked by a new building next door.
Ninety-three others were injured in the blaze, one of the biggest nightclub fires in the world in the past 20 years.
The court disqualified the former city officials from ever holding public office for approving the nightclub's building permit despite non-compliance with the building code and giving preferential treatment to the disco's operators.
Stephen Santos, president of a group of the fire survivors, welcomed the court decision but lamented that the verdict had taken 18 years in an interview with the local television network ANC. He said he was afraid some of those convicted might have already left the country.
Trials in the Philippines normally take many years to conclude, with courts burdened by a huge backlog of cases. The supreme court chief justice Maria Lourdes Sereno said last month that reforms were being instituted and more judges hired.