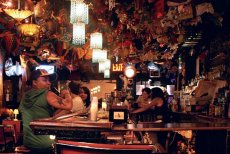 Cubbyhole

(Photo: Shanna Ravindra)
281 W. 12th St., nr. 4th St.; 212-243-9041
The tiny, always gregarious West Village bar unites the neighborhood's corporate climbers with a mix of sporty types and postcollege hotties, plus a few wayward hipsters.
363 Fifth Ave., nr. 5th St., Park Slope; 718-788-0924
Those pining for the buzz-cut babes and flag-waving mammas of small-town Lesbianville will feel right at home shooting pool or singing karaoke at this Park Slope institution.
80 Grove St., nr. 4th St..; 212-924-3558
Doors open at 10 p.m. for this Friday-night dance party. Sure, it's got "Red Hot Go Go Boys, " but Lea DeLaria has also showed up! Check the party's Facebook page for the "secret" password for free entry.
438 Hudson St., at Morton St.; 212-924-3347
A no-nonsense party bar for rocker girls and brainy ladies looking to kick back without pretense.
53 Christopher St., nr. Seventh Ave.; 212-488-2705
The legend of the '69 Stonewall riots lives on, with historic photos from the riots hanging amid the flat-screens that sometimes show soft-core porn.
From skyscrapers to statues to subways, how to make the most of your first visit.
Paris has its lights and Rome its crooked alleys, but nowhere is as breathlessly romantic as New York.
With stores constantly one-upping each other, the city's shopping districts are more inviting than ever.