Hip Hop-Hip Hop is a blend of today's high energy "street style" movement. Typically performed to "popular rap music, " This style of dance has been sought after by teens, Preteens and the "young at heart." The style boasts that everyone is capable of taking part and having fun! Sometimes percussive and other times it incorporates "house or club" dancing, making Hip Hop the lastest dance phenomenon.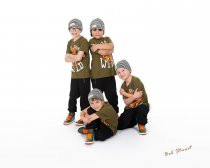 In the first introductory levels, the staple steps of hip hop are explored. A foundation is set as well as introducing dancers to a funkier side of dance. A challenge for many students is breaking out of their comfort zone, and is overcome through a self-expressive dance circle at the end of the class. As the levels progress, different movements and styles are explored as their age and ability increases. In the higher levels, there is less focus on the staple steps and more of an exploration of various styles through a foundation of strong technique and musicality. Age appropriate music is always selected for each level, keeping each class a fun and exciting environment for all!
Levels for our technique classes are broken into the following levels. Please note, that most dancers stay at a level for 2-3 years in a row.
Beginner -A class that introduces the student to the basics . Classes are slow and thorough to ensure proper alignment and understanding.
Beginner II– A continuing class for students who have some knowledge of ballet or have had danced as a child and wish to begin again.
Advanced Beginner -A continuing class for students who have knowledge of the style of dance. This class includes more complex material.
Beginning Intermediate -A class for students who are comfortable with the curriculum.
Intermediate/Advanced -A more involved class than Intermediate for students with secure technique and the capacity to keep up in a fast-paced class.
Advanced – This class is for the professional dancer or student who is knowledgeable and secure in all steps. Large movements, beats, many pirouettes in all positions. Not for the unskilled.