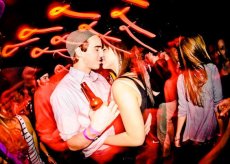 You're a dance maniac. A cocktail special and conversational atmosphere aren't enough to attract your patronage. You're the type that needs the exhilaration of flashing lights, hair-raising sound, and an adequate space to show off those moves. While this beat-chasing schedule might sound exhausting to normal people, the real work for a socialized species like yours comes with keeping up with the weekly changing landscape of Twin Cities nightlife. But turn down that squelching bass for a second and listen up!
Gimme Noise did all the heavy lifting for you so all that's left to be done is to fetch that headband out of the dryer and go freak out at the local discos. Here are our top 10 places to go dancing in the Twin Cities.
See Also:
Photo by Denis Jeong Plaster
315 14th Ave. SE, Minneapolis
It's the opposite of a megaclub with a million-dollar light rig, but its character makes it unique. By day, it's a little bar in Dinkytown with a lot of beautiful sitting room and a quiet vibe, but by night, it whips off its glasses and pours on the glitter. The tables are cleared out to transform the room into a charming music venue with an events calendar packed with the most discerning local DJs. Dance nights like Hotel and Blackout offer forward-thinking party music in a venue that bridges the gap between friendly and hip. If you work up an appetite to dance until 2, you can walk across the street for your choice of cheese-covered late-night eats.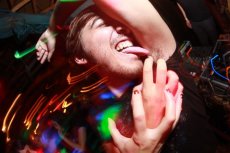 It's comfortable and lively rolled into one great package.
15 4th St. NE, Minneapolis
Ground Zero does not care what you think of its aging exterior. The club has been a mainstay in the Northeast neighborhood for decades, and it has outlived so many downtown pop-up clubs that it feels like it exists in its own universe. It's still darkish and gothic inside, and yes, Bondage-A-Go-Go lives on for those who own a closet full of PVC catsuits. Miraculously, newer dance nights are starting to appear on the club's schedule - oddly impossible to find online - introducing a whole new crop of clubgoers to its unique feel. Maybe the club's resistance to change is the reason it's so beloved, since it seems like it will be playing loud music and letting its freak flag fly forever.
Photo by Anna Gulbrandsen
315 First Ave. N., Minneapolis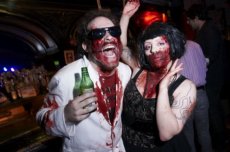 Note: Insert Coins is now closed. From the ashes of the embattled old Karma club came Insert Coins, where "game" means something very different than it does at every other club in the city - we're looking at you, Aqua. Old-school arcade cabinets and brand-new video games are tucked into a neon wonderland with an array of dance nights, so you can get in that crucial game of Tetris after you're finished tearing up the floor. The games offer a great break from all the regular nightclub activities, so even if you lose the dance-off, you can still conquer the top score on Ms. Pac Man. Hell, have a martini while you're at it. Now all they have to do is reopen that awesome patio for summer.
408 Hennepin Ave., Minneapolis
A GLBT club with a welcoming attitude towards anyone who wants to enjoy an absurdly strong drink or three, the 90's is nothing short of a Minneapolis institution. The Dance Annex is an enduring shrine to golden-era club hits, and if you get the urge to watch other people dance - on a stage in a next level dress and falsies - the La Femme Lounge is a legendary drag experience. For those under 21, finding a dance night that doesn't feel cheesy can be a huge feat, but the 90's has a real authenticity that comes from catering to the 18+ crowd every Wednesday, Thursday, and Sunday for an eternity in club years. The GLBT scene has seen its share of defeats and triumphs since then, but the Gay 90's has been an equal-opportunity dance floor from the start.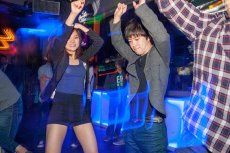 711 Hennepin Ave., Minneapolis
Barfly itself can feel bloodless, but parties upstairs at the Loft and next door at Skyway always seem like a secret clubhouse filled with pounding drums. At the Loft, an elevator transports you to a fifth-floor space with an awesome view of the Minneapolis skyline, seen best from the rooftop smoking deck. This venue of choice for higher-profile dubstep and trap events attracts the 18+ crowd with more success than probably any other space in the city, plus there's tons of room for the furry-booted, glowstick-toting masses to get as wild as they'd like (even going so far as stripping down to get graffiti'd by local artists). While this pair won't win awards for best decor, it packs enough bass to melt your face clean off.
513 Washington Ave. S., Minneapolis
If the Gay 90's doesn't feel sexy enough, try the Bolt Underground, situated just under the Minneapolis Eagle. There are no windows in the basement space, which means that patrons can feel free to get a little risque. For the gay community there are underwear parties and athletic burlesque from the Booby Trap Girlz, and the club goes outside its comfort zone a bit to host SYSTEM on Fridays to become the best techno club night in the Twin Cities. Two-for-one rail drinks, a super-dark look, and an insane sound system all make sure that everybody minds their business to tear up their own piece of real estate on the floor.