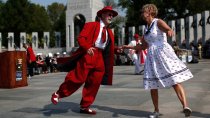 Cat's Corner
Balancoire Night Club
2565 Mission St.
San Francisco, CA 94110
(415) 920-0577
Located inside the Mission's Balancoire Night Club, Cat's Corner conducts weekly Wednesday night swing dancing starting at 9:30 p.m. Each night features a live band, with a different band featured each week. Classes are offered on-site, starting at 7 p.m. on dance nights, for both beginning and intermediate dancers. The club features a full bar, restaurant and friendly atmosphere to ensure a night of swinging fun.
9:20 Special
2460 Sutter St.
San Francisco, CA 94115
(415) 722-2772
Around since 1998, The 9:20 Special is a regular Thursday night swing dance party held at the Russian Center in Lower Pacific Heights. Open dancing is from 9:20 p.m. to 12:30 a.m. and is a very reasonable $9. Beware: area garages close around 10 p.m., but free street parking is generally plentiful at this hour. Monthly lessons begin the first Thursday of each month and are offered for beginning and intermediate dancers starting at 7:20 p.m. For those looking to see what swing dancing is all about, show up at 9 p.m. any week for a "taste-tester" crash course in how to swing dance.
Tuesday Night Jump
The Verdi Club
2424 Mariposa St.
San Francisco, CA 94110
(415) 861-9199
Now in its 16th year and running, Tuesday Night Jump is held at the Verdi Club on Mariposa. Each week, dancing is held from 9:30 p.m. until 11:30 p.m. for a $12 entrance fee. Live music is provided by Stompy Jones and consists of fast-paced rhythm and blues and swing. Various level classes are held before the dance, with both drop-in and monthly options available. The club has a full bar, and special discounts are available for groups.
Ashkenaz Music & Dance Community Center
1317 San Pablo Ave.
Berkeley, CA 94702
(510) 525-5054
A center that truly serves the local community, Ashkenaz hosts a vast variety of live music and dance events, including everything from belly and flamenco dancing to reggae and zydeco. Swing events are generally held several times per month with shows starting at 9 p.m. Pre-show lessons typically start at 8 p.m. and are included with admission. All Ashkenaz shows welcome all ages of dancers, and the club offers a vegetarian menu, as well as beer and wine for those 21 and over.