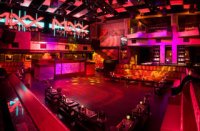 1/4
MIXX at Borgata
2/4 Photograph: Helen Norman 3/4 Photograph: Courtesy of Revel Resorts
Ivan Kane's Royal Jelly at Revel
4/4
House of Blues at Showboat
When the sun goes down, the scene heats up at The Pool After Dark, the aquatic party playground at Harrah's Resort Atlantic City Weekly recently sent a slew of superlatives the Pool's way, including Best Dance Club, Best Place to Pick Up a One-Night Stand and Best Club to Fist Pump. That final triumph could have a little something to do with the resident DJ: Jersey Shore alum Pauly D.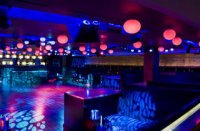 Up the VIP ante by reserving a poolside table, cabana or private hot tub, with premium bottle service provided by bikini-clad waitresses.
When it comes to options, Borgata offers a veritable smorgasbord of unique nightlife experiences, from a rock & roll tequila bar to a swanky ultra lounge. For dance floor-seekers, there's MIXX (Sat, Sun 10pm–4am or later), a high-energy bi-level nightclub that has attracted the likes of Rihanna and Cee Lo Green. Behind it is the more intimate—but in no way low-key—mur.mur(Fri, Sat, Mon 10pm–4am or later), which features 30 bottle-service tables and a VIP area smack-dab in the middle of the dance floor.
A.C.'s newest player, HQ Nightclub, located in a stand-alone structure at Revel offers two levels of party space and commands sweeping ocean views.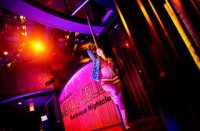 With its ongoing lineup of internationally known DJs and state-of-the-art suspended performance stage, HQ is helping A.C. re-create the Vegas experience much closer to home.
The sports bar has gone upscale, courtesy of Jay-Z, at the Atlantic City outpost of the music mogul's 40/40 Club. More than 30 flatscreen TVs mix with memorabilia (including a number of autographed jerseys donated by players who have sported the number 40) to fill the walls of this 15, 000-square-foot ultra sports lounge, which boasts not one, but two VIP sections and a premium cognac room.
Musical stylings go well beyond the Delta at Showboat's House of Blues , the Atlantic City location of the world-famous music club. The venue can pack in a crowd of more than 2, 000 fans; they'll need the space for upcoming shows by Megadeth (Nov 16), BB King (Nov 23), Mac Miller (Dec 26, 27) and The Roots (Dec 28). To make like a true high roller, hit the artifact-filled Foundation Room. The once-private club is now open to the public (as long as you're dressed to impress) and has a welcoming fireside lounge, VIP "Prayer Rooms" and stunning views of the Atlantic.
See also: